28 Mar

Free financial health check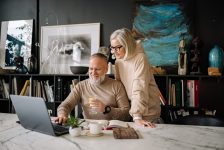 Start the new tax year the smart way with a
free financial health check
With the end of the tax year upon us, there's no better time than now to check in on your finances and discover how you might make your money go further.
To help you achieve this, the HWIFM team are offering you a free, hour-long financial health check.
You don't need to be an existing client to benefit from our impartial, specialist financial advice. All you need is an interest in understanding your money and discovering how you might make it go further.
Book your free health check today or learn more about what's involved by reading on.
What is a financial health check?
A financial health check is a chance for you to get a clear overall picture of your financial situation. You'll also receive impartial advice on how you can keep your finances in tiptop condition.
The check involves an hour-long consultation with one of our specialist financial advisors. This is typically held in person but can take place over the phone or a video call.
Your advisor will guide you through the process, helping you understand your financial situation and offering recommendations that could help you make the most of your money.
You can also take part in the health check as a couple; this can be especially valuable if you and your partner share joint assets or are connected financially.
The health check is absolutely FREE and you're not obligated to commit to any strategy or financial product before, during or afterwards. The HWIFM team just want to help more people understand their finances and feel confident in striking ahead towards a brighter financial future.
With the end of the tax year fast approaching, it's the perfect time to check in on the health of your finances.
What do we look at during a financial health check?
During a financial health check with HWIFM, we'll be reflecting on every element of your finances.
This information allows your financial advisor to establish a clear idea of your financial profile, learn where you'd like to be in the future, and make recommendations based on your unique circumstance.
During your health check, you might want to share:
your current income
any assets in your name, such as property
recent expenditure and typical spending
any savings accounts, ISAs or other investments such as trusts
existing pension(s)
current debt, if you have any.
This information is treated in the strictest confidence by your advisor and the HWIFM team.
It can also help to share any future goals you might have. Perhaps you'd like to have a certain level of income at retirement? Maybe you want money set aside for your children's future or have your mortgage paid off in the next five years?
This insight helps your specialist advisor understand your financial goals and provide bespoke advice on how you might reach them.
Discovering your risk profile for smarter investments
As part of the financial health check, your advisor will run through a risk profile questionnaire with you that helps to deduce your attitude toward risk.
Known as your 'risk profile', this information helps both you and your advisor get a clear idea how you feel about risk in relation to making investments.
Maybe you're happy putting it all on the line for the chance to get some big returns? Or perhaps you're risk-averse and drawn to steadier investments? Your profile helps you (and your advisor) figure out where you sit on this spectrum.
With this insight, our financial advisors can offer you tailored investment recommendations that reflect your personal comfort level when it comes to investing.
What kind of recommendations are made during a financial health check?
Once they have a clear understanding of your financial situation, your advisor will be able to make some recommendations.
These suggested actions are based on your unique financial situation. We don't offer blanket solutions or pressure you to make big financial decisions. We provide impartial, no-obligation suggestions, like the examples below.
We may recommend a full pension review, especially if you've not had one for a long time and believe you could be making more of your pension.
Depending on your financial goals and risk profile, we may suggest investment options that could help you make the most of your savings.
If you're thinking about your financial legacy, we might suggest strategies to minimise Inheritance Tax payments.
Once you know what kind of income you'd like to have in the future, you can take action today to ensure your funds and investments will support it. Our recommendations can be a great starting point to sorting out a financial strategy that works for you.
The HWIFM team want to empower you with the knowledge and insight you need to make sound financial decisions that suit you. It's our hope that you'll leave your financial health check with:
a clearer understanding of your current financial situation
insight into how you might meet your financial goals
some actions you could take to make the most of your money
greater confidence in how you're managing your finances.
We won't tell you what to do, we won't push any financial products on you, and we won't offer generic advice that doesn't reflect your unique financial profile.
Step into the new tax year with more confidence in the financial decisions you're making. Drop us a line to book your free financial health check appointment today.