09 Dec

Plan ahead to get the most out of selling your farm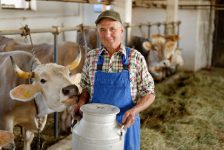 Retiring or leaving the farming industry is a big decision, but once made you will naturally want to get the most from the sale.
In this post, we explore what kinds of options and profit-boosting opportunities are open to farmers who want to sell their farm. Plus, we take a look at an exciting potential opportunity for farmers choosing to retire.
Develop the farm to increase its selling value
As with any property sale, improving the appeal of what's going under the proverbial hammer can help increase profit from the final sale.
If you're thinking about selling your farm, getting it valued is a very helpful first step. Once you know how much its predicted market value is you can make more informed decisions on investing in improvements or developments.
Installing a new barn building or refurbishing an existing one could boost your property's value and attract more interest from buyers. While it's a big upfront investment, an experienced financial advisor would be able to help you calculate how much to spend versus how much it might improve the saleability.
It's also worth considering any downsides to new developments. Some buyers will be looking for land within a ring fence and may be concerned that a new barn near the farmhouse would compromise their privacy.
Retain potential profit when selling your farm
When selling your farm, you may be able to arrange to retain future development opportunities or farm profit.
If your farm comes with a significant amount of land, you might consider selling it in sections. You could opt to retain a section of land that has lucrative development potential, such as a field or building within a village boundary where planning permission would be easier to obtain.
You might wish to sell the working buildings and surrounding land and retain the farmhouse or other residential space. However, it's likely that this will affect the value of the farm when it goes on the market.
Another option is attaching an overage or clawback clause to the sale of your farm. While it's not appropriate for every farm sale, this arrangement entitles you to a percentage of any future development value within a set period of time.
Defra's exit payment scheme is a financial incentive to sell your farm in 2022
Last year Defra announced a consultation on a new opportunity for farmers to collect a lump sum exit payment in 2022 when they choose to sell or pass on their farm.
This opportunity relates to how the farming industry is transitioning from its Basic Payment Scheme (BPS) to Environmental Land Management scheme (ELM). In the past, farmers who met certain conditions could collect annual financial support through the BPS, however, this scheme will be phased out by 2028.
ELM is more focused on mitigating climate change and fostering environmental benefits. As such, ELM will provide payment to farmers who meet certain sustainability measures going forward.
This new direction represents a significant shift in culture and direction for the farming industry. In order to smooth the transition between these two schemes, farmers who decide to sell or pass on their farms in 2022 have the opportunity to collect their remaining BPS support as a single lump sum.
How could exit payments help when selling your farm?
While there's a payment cap of £100,000, the consultation suggests that farmers who meet the requirements and are successful in their application could receive a generous sum.
The amount that eligible farmers would receive depends on how much they have collected through BPS annually from 2018–2020. According to the consultation, payments are to be set at 2.35 times the total collected in that time frame.
According to Defra Secretary George Eustice, farmers will have to exit the industry to be eligible.
"We believe that offering a lump sum will help those who wish to retire or leave the industry to do so in a planned and managed way.
This will make more space for the next generation of farmers, as well as providing opportunities for existing farmers who wish to expand to improve their profitability."
The Rt Hon George Eustice MP, Secretary of State for the Environment, Food and Rural Affairs
In the consultation, "leaving the industry" is defined as a tenant departing a property, or a landowner selling up or handing over their property to the next generation.
While this scheme is still being decided upon, it's shaping up to be a golden opportunity for farmers who are considering selling up and/or retiring in the next 12 months.
As one part of a much wider financial decision, it's important to consider how this incentive could fit in with your plans for selling your farm. From tax planning to how you might go about disposing of all of your business assets, there's plenty to consider.
Plan ahead when selling your farm
Like any significant sale or financial decision, selling a farm is going to take time. In our last post, we reported that selling a farm typically takes between six and 12 months.
Whatever decision you make, selling your farm will require some level of planning in advance. Speaking to a trusted independent financial advisor can arm you with all the necessary information and insight to make well-informed decisions that suit you.
The team at HWIFM can offer you advice and guidance on selling your farm, whether you're ready to go on the market tomorrow or just considering your options for now.
Resources
UK Parliament – MPs urge Government to assess risks of phasing out farm payments
Defra – Direct Payments to farmers: Lump sum exit scheme and delinked payments in England and Consultation document
GOV.UK – Basic Payment Scheme (BPS)
GOV.UK – Environmental land management schemes: overview
Farmers Weekly – Exit payments: What should farmers do to prepare for 2022?
Farmers Weekly – Lump sum payments of up to £100,000 revealed by Defra
UK Parliament – MPs urge Government to assess risks of phasing out farm payments