07 Jul

What is the life insurance gender gap and how is it affecting women and mums?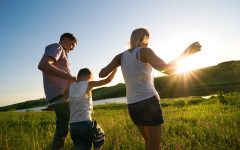 What is the life insurance gender gap and how is it affecting women and mums?
Life insurance can be a very powerful tool, giving you confidence in your family's future financial security if you were no longer here.
This is pretty much summed up in 'Why should women take out life insurance?'
What is life insurance?
Life insurance is a policy which you can purchase that gives your family financial protection should you pass away.
Often taken out as a condition of getting a mortgage, life insurance allows you to leave behind a tax-free lump sum to ease any financial hardship that may be caused by your death, especially if you are the main or only breadwinner in your family.
The amount you pay for your life insurance cover depends on several factors, including the type of cover, how much the policy will pay out, your age at the time you take the policy out and your health history.
Having life insurance in place has many benefits, both for the security of your family and your own peace of mind.
If you were to die, your family could use the lump sum to pay off the mortgage or take care of monthly bills.  It means that the people who rely on you financially have one less thing to worry about if the worst were to happen to you.
Life insurance is by no means a legal obligation. Not everyone needs or wants it, which is why the HWIFM team help you to figure out if this kind of protection is for you. We will only ever suggest a product that's going to suit you – after all, no two people's requirements are the same.
Why should women take out life insurance?
The benefits of life insurance are not gender-specific.
These days, women are just as likely to be the main or sole breadwinner in their family as men. But even if that isn't the case, the death of a woman is just as likely to cause financial hardship to her family as the death of a man.
The number of women contributing significantly to their family's finances has been increasing steadily for several decades. But despite that, there has been no equivalent rise in the number of women investing in financial products like life insurance. This is sometimes referred to as the life insurance gender gap.
Even stay-at-home mums who have no income may feel the need to take out life cover. A pay-out from a life insurance policy could be used to offset the cost of childcare and domestic labour if they were no longer there to provide them.
Why do fewer women take out life insurance compared to men?
There are a number of theories around why fewer women than men purchase life insurance.
Until recently, it was the responsibility of the "man of the house" to generate income, so it was his life that was more typically insured rather than his wife. These days, families are no longer confined to such rigid roles and dynamics but worryingly, the life insurance gender gap still exists in the 21st century.  
More women than ever make up the workforce in the UK. The proportion of women aged 16 to 64 in employment has grown from 53% in 1971 to 72.1% in 2019, whereas the figures for men show a drop from 92% to 80.5% over the same period[1].
Despite this, women still, on average, earn less than men – to the tune of just over 18%[2]! Perhaps because of this gender pay gap, the misconception that their income isn't worth protecting has persisted.
Do I need life insurance if I'm a stay-at-home mum?
A woman's role in a family can't just be measured in terms of her financial contribution.
If you're a stay-at-home mum, your absence would have a substantial financial impact on your family even if you don't earn any income.
If you were to die, your family may need to incur significant expenses to maintain the standard of life and care that you currently provide. This is especially so if there's no partner or spouse left behind.
Life insurance could help you ensure that your family is protected financially if the worst were to happen. But like any investment, you need to consider whether life insurance is right for you and your unique financial needs
If you feel that life insurance might be a good idea for you or if you'd like to explore your options, the team at HWIFM are here to provide specialist guidance. Make an appointment with our friendly team today and make an informed decision about what works for you.
Call our team on 01606 338914
[1] www.gov.uk/government/news/uk-gender-pay-gap
[2] https://www.ons.gov.uk/employmentandlabourmarket/peopleinwork/employmentandemploymenttypes/bulletins/employmentintheuk/march2019