07 Jul

"Life can change in a moment" – Protecting what's really important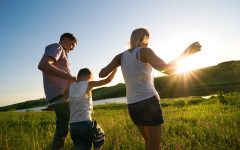 Choosing the best protection is about looking after the life you live and the people you share it with.
Having protection like life insurance or critical illness cover can help you effectively prepare for whatever life throws at you. It means you and the people who depend on you are covered if something happens to you.
After all, none of us know what's round the corner and whether for better or worse, life can change in a moment.
Protecting you, your family and the life you lead
"One of the most important things in financial planning is protecting the wealth you already have, as well as trying to make more wealth, and this usually comes down to protecting your family." Paul Galley, Independent Financial Advisor at HWIFM
At HW Independent Financial Management, we believe that good financial planning isn't just about trying to grow your income – it's also about protecting the income you already have, and the life this income allows you to lead.
We provide the full range of health and life protection products and services, which include:
Income protection – A flexible-term insurance policy that provides you with regular payments if you are unable to work due to illness or injury.
Critical illness cover – If you were to be diagnosed with a significant illness (e.g. cancer), this insurance policy would provide you with a tax-free lump sum.
Life insurance – This typically long-term policy provides the people who depend on you with an income (e.g. a lump sum) if you were to die during the policy term.
While some people feel the benefit of investing in all three products, others might only need one of two types of protection; it's all about what works for you as an individual.
Protection for short-term and long-term coverage
The kind of protection you and your family might benefit from will depend on your unique circumstances. It also depends on where you are in life and how you'd like to benefit from the policy.
You may require shorter term coverage to protect your income for a specific reason. Say you're a 40-year-old husband and father aiming to pay off your house within the next 15 years. Income protection would provide your spouse and child with the means to pay off the mortgage if you were to become ill and unable to work.
On the other hand, if you're a 62-year-old lady looking towards retirement and thinking about her legacy, long term life insurance might be the right call – especially if you want to put the pay-out towards paying an otherwise hefty inheritance tax bill.
To find out what kind of protection you and your family might benefit from, speak to our friendly and experienced protection specialists today.
When is the best time to think about protection?
"The best time to be getting any kind of advice is when you are looking at changing something." Penny Williams, Independent Financial Advisor at HWIFM
It can sometimes be tough to work up the momentum to think about health and life protection. As for knowing when it's the right time to assess or review your options, it's all about those big life milestones.
As soon as you or your family starts going through significant changes, it's a good bet that your protection needs are changing, too. This can include:
getting married or seeking a divorce
buying a home or moving in with someone who owns their home
planning for or having children
This is by no means an exhaustive list, and a "big change" can look different for different people. However, these kinds of milestones can be an effective prompt you to speak to someone about your protection.
It's not just about finding the perfect policy and forgetting about it forever. Adjusting your protection throughout your life means you're always effectively covered and ensures you're not paying for coverage you don't need.
Protecting your most important "asset"
"If you're not protecting yourself properly, you're leaving everything else vulnerable." Catrina Walker-Jones, Independent Financial Advisor at HWIFM
Ultimately, the level of protection you and your family needs comes down to personal choice. Not everyone opts for life insurance, critical illness cover, or income protection. But it's worth thinking about what else you're already paying to protect.
Many of us already invest in insurance policies for cars, pets, holidays, houses, electronics, weddings, and more. But without the person taking out the insurance, all of those things they're protecting become null and void.
The right kind of protection policy protects your income, your family, and the life you lead – all by protecting the most invaluable "asset"; you.
Interested in protecting you and your family's most important "asset"?
Speak to us today, and let's explore what the right protection could look like for you.